WIRELESS AUTONOMOUS, RELIABLE AND RESILIENT PRODUCTION OPERATION ARCHITECTURE FOR COGNITIVE MANUFACTURING
Project

AUTOWARE will establish and push forward an open CPPS ecosystem, allowing SMEs to access all the different components in order to develop digital automation cognitive solutions for their manufacturing processes. AUTOWARE will connect several initiatives for strengthening the European SME offer on cognitive autonomous products and leveraging cognitive autonomous production processes and equipment towards manufacturing SMEs.

Manufacturing SMEs which will be able to develop digital cognitive automation systems thanks to a facilitated access to several ICT tools.

Automation and machine tool/robot providers which can incorporate open CPS trusted platforms as part of next generation smart production line components and solutions.

Developers of cognitive (learning, analysis, knowledge management capability services) and automation apps for autonomous service support.

Providers of cloud and HPC simulation and computation services that could host the operation of advanced cognitive services.
Objectives

AUTOWARE high-level objective is to build an open consolidated ecosystem and single community that will lower the barriers of SMMEs for cognitive automation application development and application of autonomous manufacturing processes.
Leveraging reference heterogeneous communications and networking architecture to support connectivity & data management in CPPS.
Provisioning of robust business development frameworks that will drive a business-oriented and RoI rooted approach to migration towards digital automation.
Facilitate the growth of a digital multi-sided ecosystem through the set-up of an open ecosystem to facilitate the access to digitalization technologies to SMMEs.
Alignment with major international standards and integration with key experimental infrastructures and ICT for Manufacturing innovation hubs.
News

Get all the latest breaking AUTOWARE news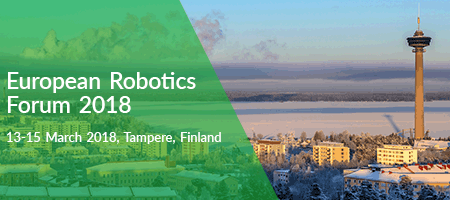 Workshop at European Robotics Forum 2018 "Adapting robotics and related Industry 4.0 technologies for SMEs"
Rapid changes in market demand lead to decreasing product life times and more frequent product and product variants launches. This has boosted the worldwide competition on production costs, quality, and delivery time.
Read more >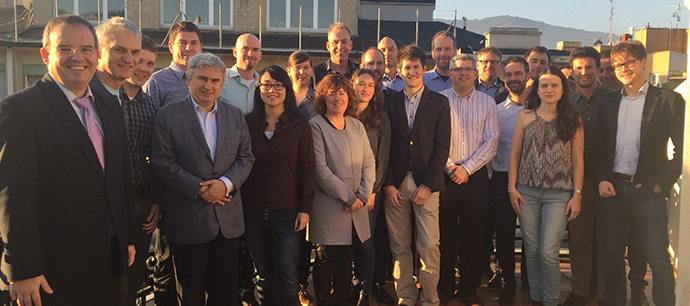 AUTOWARE Kick-off meeting
AUTOWARE kick-off meeting took place in Bilbao on 27-28 of October. All project partners' attended the meeting, where they presented their roles, expertise and main objective within the project. Moreover, during the WP presentations, first initial technical discussion where generated, showing great interest to achieve expected goals.
Partners

The AUTOWARE consortium consists of 14 partners from 7 countries. Discover them.