Publications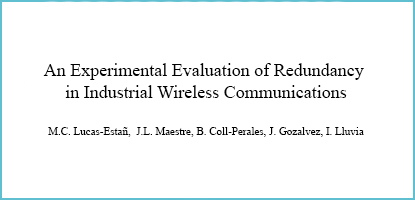 An Experimental Evaluation of Redundancy in Industrial Wireless Communications
M.C. Lucas-Estañ,  J.L. Maestre, B. Coll-Perales, J. Gozalvez, I. Lluvia, in Proc. of the IEEE 23rd International Conference on Emerging Technologies and Factory Automation (ETFA 2018), 4-7 September, 2018, Turin, Italy.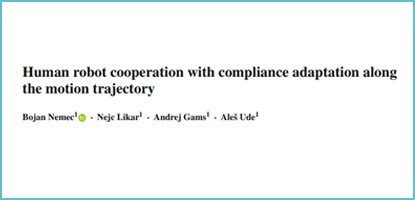 Human robot cooperation with compliance adaptation along the motion trajectory, Autonomous Robots
Autors: B. Nemec, N. Likar, A. Gams, A. Ude (2017), DOI: 10.1007/s10514-017-9676-3.
Download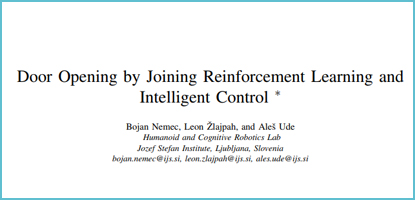 Door opening by joining reinforcement learning and intelligent control
Authors: ", B. Nemec, L. Žlajpah, and A. Ude (2017), 18th International Conference on Advanced Robotics (ICAR), Hong Kong, pp. 222-228.
Download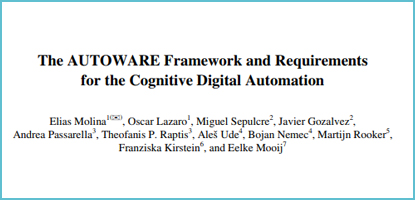 The AUTOWARE Framework and Requirements for the Cognitive Digital Automation, Collaboration in a Data-Rich World
Authors: E. Molina, O. Lazaro, M. Sepulcre, J. Gozalvez, A. Passarella, T. P. Raptis, A. Ude, B. Nemec, M. Rooker, F. Kirstein, E. Mooij (2017), 18th IFIP WG 5.5 Working Conference on Virtual Enterprises (PRO-VE 2017), Vicenza, Italy, pp. 107-117. DOI 10.1007/978-3-319-65151-4_10
Download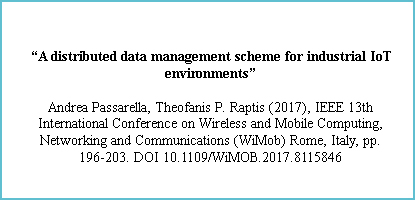 A distributed data management scheme for industrial IoT environments
Authors: Andrea Passarella, Theofanis P. Raptis (2017), IEEE 13th International Conference on Wireless and Mobile Computing, Networking and Communications (WiMob) Rome, Italy, pp. 196-203. DOI 10.1109/WiMOB.2017.8115846
Download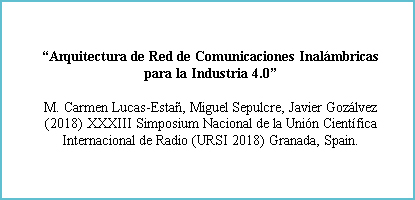 Arquitectura de Red de Comunicaciones Inalambricas para la Industria 4.0
Authors: M. Carmen Lucas-Estañ, Miguel Sepulcre, Javier Gozálvez (2018) XXXIII Simposium Nacional de la Unión Científica Internacional de Radio (URSI 2018) Granada, Spain.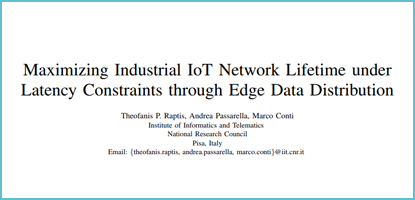 Maximizing industrial IoT network lifetime under latency constraints through edge data distribution
Authors: Raptis, T. P., Passarella, A., & Conti, M.. In 1st IEEE International Conference on Industrial Cyber-Physical Systems,(ICPS)(May 2018),
Download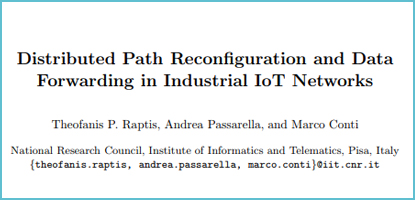 Distributed Path Reconfiguration and Data Forwarding in Industrial IoT Networks
Authors: Raptis, T. P., Passarella, A., & Conti, M. (2018).
Download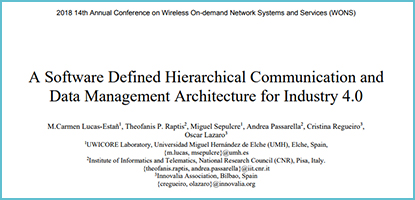 A Software Defined Hierarchical Communication and Data Management Architecture for Industry 4.0
Authors: M.Carmen Lucas-Estañ, Theofanis P. Raptis, Miguel Sepulcre, Andrea Passarella, Cristina Regueiro, Oscar Lazaro.
Accepted for participation in the 14th Wireless On-demand Network systems and Services Conference (IEEE/IFIP WONS 2018), 6-8 February 2018, Isola 2000, France.
Download