AUTOWARE attends Hannover Messe 2019
May 7, 2019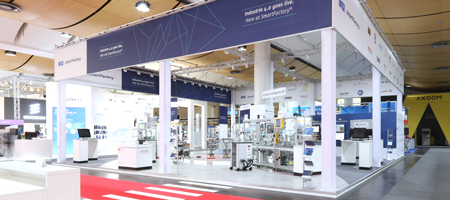 The SmartFactory showcased the AUTOWARE technologies Fast Quality Control, Active Product memories and TSN connection with the TTTech Fog Node on the Hannover Fair on the SmartFactory Booth at the Hannover Fair 2019.
Industrie 4.0 innovations developed at SmartFactoryKL in cooperation with 15 industry partners were on exhibit this year at the Hannover Messe from April 1-5, 2019. The topic of Artificial Intelligence, which the trade fair itself highlighted this year with its motto "Integrated Industry – Industrial Intelligence" proved to be a real magnet for visitors. Some AI methods were demonstrated for the first time in the SmartFactoryKL Industrie 4.0 production plant. Included were methods for condition monitoring, data analytics, and anomaly detection as well as a new computer vision system for product quality control.
"We demonstrate how to set the building blocks of Artificial Intelligence to improve plant production and strengthen the bonds of Human-Machine-Interaction," said Prof. Dr. Detlef Zühlke, Chairman of the Executive Board of SmartFactoryKL. Many visitors, industry representatives, and policy makers from all over the world visited the SmartFactoryKL booth to learn more about the latest trends in the world of Industrie 4.0.
Other priorities of the SmartFactoryKL booth:
Infrastructure & TSN:

To ensure transmission quality, 

SmartFactory

KL

has implemented data transmission between infrastructure and server via real time TSN technology.

Smart Safety:

The safety policies of Industrie 4.0 plants must adapt to the flexible processes of the modular plant. 

SmartFactory

KL

demonstrates how modular production systems can be automatically certified.

5G:

Product quality is checked via 5G technology with a camera mounted on the Flexible Transport System (FTS). The FTS navigation is also controlled via 5G.
The partners of SmartFactoryKL at the Hannover Messe stand were: B&R Automation, Bosch Rexroth, EPLAN Software & Service, Festo, HARTING, Huawei, IBM, KIST Europe, METTLER TOLEDO, MiniTec, PHOENIX CONTACT, Pilz, proALPHA, TÜV SÜD and Weidmüller.
https://smartfactory.de/en/press-2019/messeauftritte/