Workshop at European Robotics Forum 2018 "Adapting robotics and related Industry 4.0 technologies for SMEs"
March 12, 2018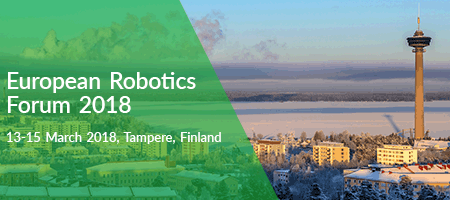 Rapid changes in market demand lead to decreasing product life times and more frequent product and product variants launches. This has boosted the worldwide competition on production costs, quality, and delivery time. These trends are critical for many manufacturing SMEs that are supplying larger companies with specialized solutions. To stay competitive, the SME suppliers are forced continuously to automate and streamline their production setup.  The major immediate opportunities are: The application of flexible industrial robots, and the inclusion of the current state-of-the-art of Industry 4.0 technologies. These overall opportunities are characterized by being developed and supplied in collaboration with specialized automation solution suppliers. In order to cope with these increases in complexity new working methods and approaches are needed to support collaborative solution selling/development activities.
Together with the EU-Project ReconCell, AUTOWARE is co-organizing a workshop at the ERF 2018.
This workshop aims to serve as a unique platform to bring different stakeholders together and exchange thoughts and brainstorm to:
Share experience on analysing/mapping end-user (focus on SMEs) towards flexible industrial robots
Identify major challenges of solution selling processes in early stages of automation decisions (focus: flexible industrial robots)
Discuss strategies on how Digital Innovation Hubs can assist in solving these challenges and reaching out to SMEs
Identify current Technological, R&D and other barriers to Market for adaptation of such early stage technologies
Provide Feedback to euRobotics and European Commission on these aspects and how to address those challenges to ensure leading role of Europe in this field
Open up new robotic business potentials through establishing a shared ground among stakeholders
Connect participants with background in robotics to existing communities, networks and ecosystems within Industry 4.0 technologies
Date, Time, Venue:
14 March, 2018 10:45am-12:15pm, Duetto 2