Implementation of Industry 4.0 in SMEs
November 4, 2019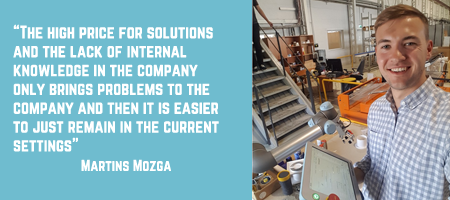 Martins Mozga, a Product Development and Innovation Engineer, has shared his thoughts and experiences on adopting Industry 4.0 technologies in Small and Medium-sized Enterprises. The main goal of the AUTOWARE project is to help European SMEs to develop digital automation cognitive solutions for their manufacturing processes. One of the possible ways we can achieve this goal is by having a complete understanding of the challenges of SMEs in Industry 4.0. We have asked Martins Mozga, a Product Development and Innovation Engineer, to give us his thoughts on this.
We have asked Martins Mozga, a Product Development and Innovation Engineer, to give us his thoughts and experiences on adopting Industry 4.0 technologies in Small and Medium-sized Enterprises.

The Challenges of Industry 4.0 for SMEs

When implementing new technologies, Martins stated that the lack of knowledge is one of the biggest challenges for SMEs as they might not have the right employees with specialized knowledge. It is easier for larger companies to employ experts to accelerate the transformation. As an alternative, SMEs can use the integrators, but these are often very expensive. Martins also stated that the price that they were offering were much higher than they could afford.

"The high price for solutions and the lack of internal knowledge in the company only brings problems to the company, and then it is easier to just remain in the current settings," said Martins.

New solutions often have high costs, which makes it difficult for SMEs to join the fourth industrial revolution. The revolution requires either specific knowledge to transform the company or external consultants which are very expensive for smaller firms.
According to Martins, another typical factor for SMEs, which can complicate the implementation process of new technologies, is limited resources. Without careful planning, companies with limited resources can quickly be firefighting rather than executing tasks strategically. With limited resources, it will decrease the responsiveness from managers which will not be healthy for the facility. Products will not be produced systematically and effectively.
What is more, companies who change equipment frequently will experience lost time. The changing time will both influence the company's quantity of produced products, but also limits the effectiveness of smart systems. If the production facility is not structured it can be difficult for companies to see the value of implementing new technologies.

"It is difficult to change an unstructured production facility in a company with limited resources," said Martins.


The Impact of Industry 4.0 on SMEs and the Management Practices

Huge variety of products and items makes it difficult to manage, and big data could be highly beneficial for companies in these situations. Martins thinks that implementation of new Industry 4.0 technologies will generally improve the management.

"High complexity in the production is difficult to manage by one manager. You need good software that can make the managers aware. A more intelligent data system could help create a more effective manufacturing and production plan. Implementing big data and analytics would be highly beneficial for SMEs. It would be a valuable asset for time-pressured production managers, as it will help them in making more strategic decisions as well as creating a more structured production facility. Thereafter, you can optimize the processes by implementing new robotics solutions," said Martins.



Evaluation of the AUTOWARE technologies
Within the framework of the AUTOWARE project, different partners provided their facilities for demonstration purposes as well as for testing, implementation and verification of the project technologies. We have asked Martins to evaluate the application some of the technologies developed during the project.

Semantic Workflow Modelling from Fraunhofer


"This is a very interesting piece of technology, that could accelerate the automation processes of a company. As I understand, this technology could create valuable schematics to optimize the production, material handling, logistics within the production floor, etc. Since for such complex production as the one I was working with, there is a clear need for a tool that can help to organize and spot the critical problems or optimization opportunities, " said Martins.


Programming by Kinesthetic Teaching from Jozef Stefan Institute


"This is definitely a MUST if the company adapts collaborative robots. Since no one in the company knows how to program, this can accelerate the adoption of cobots. Thus helping the workers to effectively manipulate and change the operations," said Martins.


Interested to know more about the way the AUTOWARE project can help SMEs to integrate new digital technologies in their production processes? Contact us at info@autoware-eu.org, so we can help you to get started with the right foot!